PENTINGNYA PETA DESA
Keywords:
Village map, Participative Mapping.
Abstract
Abstract: The making of Village Boundary Map is mandated by the Law No 6 0f 2014 on Village. The map of Village Boundary
should not only present the boundary of the area but should also present the data and information included in the village..The
activity of listing done by P4T should result a village map.. The implementation of the activity is suggested to change—that is
by applying the participatory Mapping Model. There should be a comprehensive understanding of society, the Local Government,
together with the ministry of ATR/BPN on a Village map as the map will show not only parcels of lands but also potential
of land as well as problems related to the existence of lands. This will make us aware of the importance of a village map. The
model will also benefit the ministry of ATR/BPN. One the benefits are that the map presents objects of Agrarian reform of 9
million hectares of within 2015- 2019.
Keywords: Village map, Participative Mapping.

Abstrak: Pembuatan Peta Batas Wilayah Desa merupakan amanat Undang-undang Nomor 6 Tahun 2014 tentang Desa. Peta
Batas Wilayah Desa seyogyanya tidak hanya menyajikan batas wilayah desatetapi juga menyajikan data dan informasi yang ada
dalam desa tersebut.Kegiatan inventarisasiP4T merupakan kegiatan pertanahan yang salah satu hasilnya adalah Peta Desa.
Pelaksanaan kegiatan inventarisasi P4T kedepan disarankan diubah dengan menerapkan Model Pemetaan Partisipatif. Partisipasi
masyarakat, Pemerintah Daerah bersama Kementerian ATR/BPN akan Peta Desa yang komprehensif dan berdayaguna karena
menyajikan batas wilayah desa plus data dan informasi P4T setiap bidang tanah serta kondisi, potensi dan permasalahan yang
ada dalam desa tersebut.Dengankondisi seperti ini, kita akan menyadari betapa pentingnya Peta Desa. Bagi Kementerian ATR/
BPN, model kegiatan seperti ini mempunyai banyak keuntungan. Salah satunya adalah menyediakan potensi obyek Reforma
Agraria sebanyak 9 juta hektar sesuai RPJMN Bidang Pertanahan 2015-2019.
Kata kunci: Peta Desa, Pemetaan Partisipatif
Downloads
Download data is not yet available.
References
Bambang S. Widjarnako 2006, Manajemen pertana-han berbasis masyarakat, Kantor WilayahBPN Provinsi Jawa Tengah.

Direktorat Landreform 2014, Petunjuk pelaksanaankegiatan landreform, BPN RI.

Direktorat Tata Ruang dan Pertanahan 2015, Pre-sentasi kerangka RPJMN 2015-2019 bidangpertanahan, Kementerian PPN/Bappenas.

Joyo Winoto 2008, Land for justice, welfare,sustainability and social harmony, BPN RI.

Silalahi, S.B. 2004, Peta perjalanan UUPA, PidatoPengukuhan Guru Besar dalam Bidang IlmuTanah, Ilmu Sumber Daya Fisik Wilayah danTata Guna Tanah, Manajemen Pertanahan,UNB, Bogor.

Sulaiman Daud 2012, Pemetaan partisipatif,http://www.academia.edu/3647639/ Pemetaan-Partisipatif.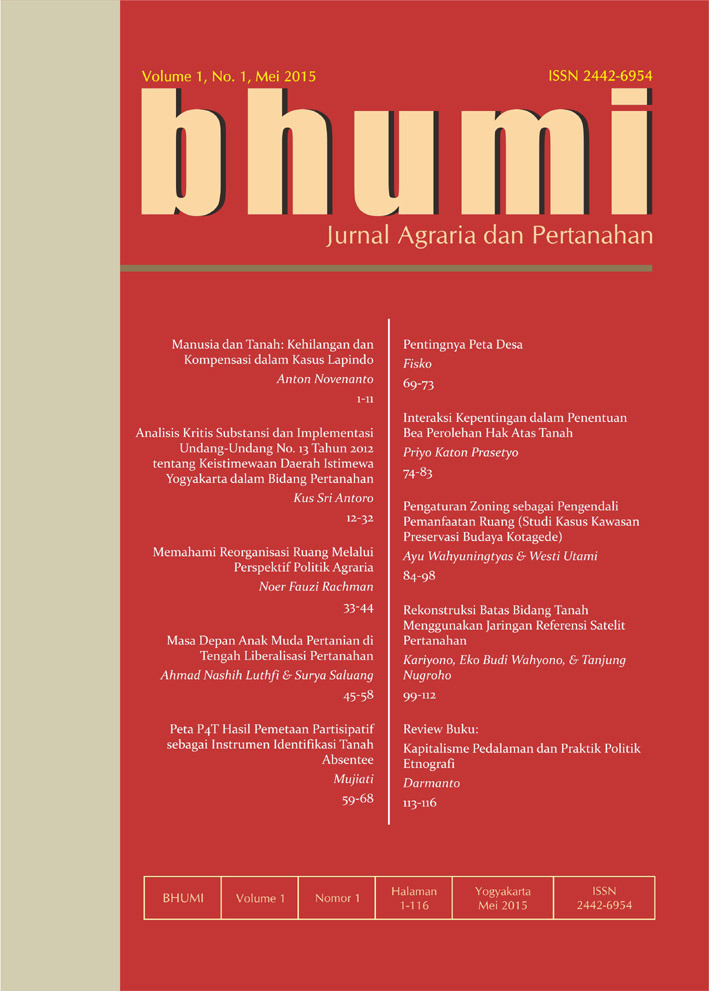 How to Cite
Fisko, F. (2018). PENTINGNYA PETA DESA. BHUMI: Jurnal Agraria Dan Pertanahan, 1(1), 69–73. https://doi.org/10.31292/jb.v1i1.42